A British couple who were among four people killed when two helicopters collided in mid-air near a theme park in Australia have been named.
Diane and Ron Hughes, 57 and 65, were from Liverpool and married in 2021.
In a statement, their family said they are heartbroken and are still trying to contact friends and family to let them know.
The crash happened on the Gold Coast – not far from Sea World in the state of Queensland – at about 2pm local time on Monday. The park would have been filled with families enjoying the school summer holidays.
Initial investigations have shown that one helicopter taking off, which contained seven people, collided with another helicopter coming into land, which contained six people.
Mr and Mrs Hughes were on the helicopter carrying seven people, which crashed. The 40-year-old pilot and a 36-year-old woman from New South Wales also died.
A 10-year-old boy who was on board is in a critical condition, while a 33-year-old woman and a nine-year-old boy are seriously injured.
The helicopter coming into land "remarkably" landed upright, despite considerable damage to the front left section of the aircraft, where the pilot was sitting.
Five occupants on this aircraft sustained minor physical injuries, while the sixth was uninjured.
A British couple were among four people killed when two helicopters collided in mid-air near a theme park in Australia.
Australian Transport Safety Bureau chief commissioner Angus Mitchell said that the incident was a "tragic start to the new year".
He explained that the main rotors of the helicopter taking off collided with the landing helicopter around 200m in the air, causing considerable damage to the front section. During the process, the main rotor blade and gearbox detached from the main body of the aircraft.
A sandbank made it difficult for emergency service workers to access the site of the crash.
Sea World Helicopters, a separate company from the theme park, expressed its condolences, saying it was "devastated" by what had happened and was cooperating in an investigation opened by authorities exploring the cause of the crash.
A statement read: "We and the entire flying community are devastated by what has happened and our sincere condolences go to all those involved and especially the loved ones and family of the deceased."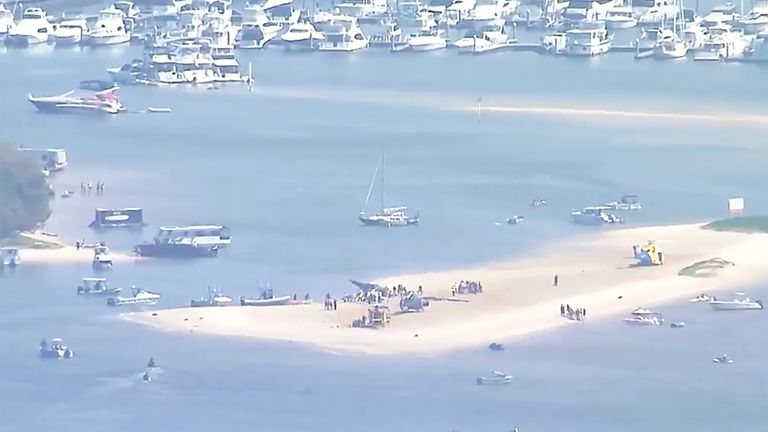 A witness named John described to Melbourne radio station 3AW that there was a "massive, massive bang" and staff at the theme park moved swiftly to close off areas closest to the crash.
"It was just huge. I'm not sure if it was the propellers or whatever hitting against each other. But there was this poor lady and her son near the helipad in tears."
Queensland Premier Annastacia Palaszczuk said the accident was an "unthinkable tragedy".
She said: "My deepest sympathies are with each of the families and everyone affected by this terrible accident."
Mr Mitchell said officials will continue to gather all possible intelligence, including camera footage taken by members of the public and CCTV from nearby buildings.
He said: "What we need to know now is what was occurring inside them two cockpits at the time. We know the take off and landing are critical phases of any flight where the cognitive workload of pilots are at their greatest."
Source : BBC News