About 25,000 ambulance workers across England and Wales are striking today in a dispute with the government over pay, amid fears some patients will be forced to make their own way to hospital.
Staggered walkouts are taking place over a 24-hour period and will include paramedics, call handlers, drivers and technicians from the Unison and GMB unions.
Workers will not strike for longer than 12 hours each, with call handlers expected to walk out for six-hour periods.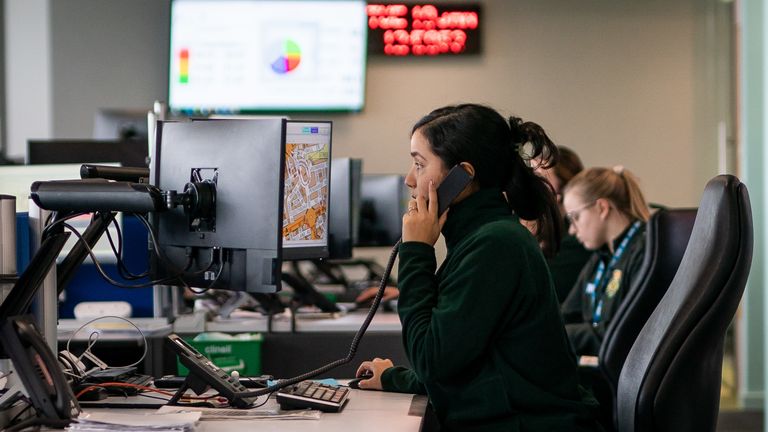 Patients can expect waits for 999 and 111 calls to be answered as well as delays for ambulances, with health leaders warning of additional stress on an NHS that's already under pressure.
Unison has balloted some 15,000 of its members who are set to walk out in London, Yorkshire, the North West, North East and South West.
More than 10,000 GMB ambulance workers are also expected to strike, meaning ambulance services will be affected in the South West, South East coast, North West, South Central area, North East, East Midlands, West Midlands, Yorkshire and Wales.
NHS England has advised patients to continue to call 999 for life-threatening emergencies but to use 111, GPs and pharmacies for non-urgent needs.
It said some people may be asked to make their own way to hospital, but urged people to seek medical advice from 111 or 999 before doing so.
If you are an NHS worker and would like to share your experiences with us anonymously, please email NHSstories@sky.uk
Health workers daily 'firefight'
'Unwelcome return to unnecessary disruption'
Health and Social Care Secretary Steve Barclay said: "Today's ambulance strike is an unwelcome return to unnecessary disruption and comes at a time when the NHS is already under huge pressure from COVID and flu.
"While we have contingency plans in place, including support from the military, community first responders and extra call handlers, to mitigate risks to patient safety, there will inevitably be some disruption for patients with fewer ambulances on the road."
He criticised the unions for failing to agree on minimum service levels during the strike on a national level after they said there were agreements made on local levels – the day after the government introduced a bill to ensure unions must have minimum safety levels during key worker strikes.
Ambulance responses are split into categories, with category one being the most life-threatening such as cardiac arrests, while category two covers conditions such as strokes and sepsis.
Unions and trusts will decide which category two calls will receive a response during the strike.
Click to subscribe to the Sky News Daily wherever you get your podcasts
The West Midlands Ambulance Service said it had agreed on a response to all category one calls plus other life-threatening cases such as heart attacks, strokes, difficulty in breathing and maternity cases.
Ben Holdaway, director of operations at the East Midlands Ambulance Service, said teams have worked to maximise the number of staff, though he anticipated a "much slower" response than usual.
"Where possible, our 999 control rooms will carefully assess and prioritise an ambulance response for those who need it most, and this may only be where there is a threat to life," he added.
South Central Ambulance Service said the strike will involve 200 workers and will mostly disrupt its non-emergency patient transport services.
Meanwhile, Yorkshire Ambulance Service warned all its services will be impacted – including frontline emergency ambulances and 999 call handling, non-emergency patient transport and NHS 111.
It said ambulances will still be able to respond during the strike, "but this will only be where there is an immediate risk to life".
In London, there is an agreement in place that a maximum of 50% of the staff will be taking industrial action at any one time and staff will come off picket lines if call-answering times are too long, according to Daniel Elkeles, the service's chief executive officer.
Read more
Ambulance unions 'put people's lives at risk' – Shapps
NHS strikes to go ahead after talks break down
Who is striking and when?
Why is the NHS struggling so much?
'Life and limb conditions'
On whether category two calls will be answered, he said: "They will. We have called it life and limb conditions because some of them are in category one, some of them are in category two, and actually, some might be in category three."
Miriam Deakin, director of policy and strategy at NHS Providers, said trust leaders feared the NHS will be hit harder by Wednesday's strike as more staff strike than they did in December, but said they will "pull out all the stops" to minimise the impact.
Monday's talks between unions and the government failed to stop the planned strike, with industrial action also in the pipeline by teachers and rail staff.
Nurses are planning to strike next Wednesday and Thursday, while another ambulance strike is set to take place on 23 January.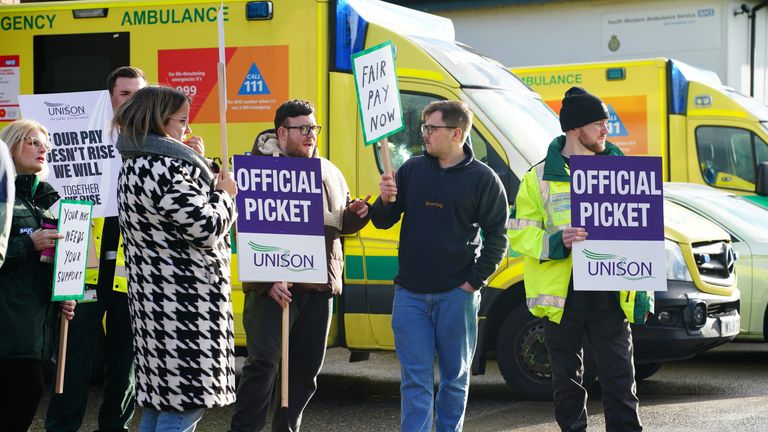 On Tuesday, the government brought in new legislation for "minimum safety levels" when workers stage walkouts.
But Business Secretary Grant Shapps told the Commons that Wednesday's ambulance strike "still does not have minimum safety levels in place and this will result in patchy emergency care for the British people".
Ambulance workers in England and Wales are striking over demands for a pay rise above inflation, but the government says most ambulance staff have received a pay rise of at least 4%.
Source : BBC News