British holidaymakers have been warned to allow several hours to get through the Channel border at Dover and Folkestone, as the UK and France continue to argue over who is to blame for the gridlock.
A Port of Dover spokesman said on Saturday morning there is still a "long way to go" to clear the backlog of vehicles on the M20 in Kent and their "thoughts are with those who were caught up" in six-hour queues on Friday.
Head of the port Doug Bannister added that 10,000 cars are expected at Dover today, as a result of "increased transaction times at the border" due to Brexit, exceeding Friday's 8,500.
P&O ferries is recommending travellers allow up to four hours to pass through checks, suggesting some could end up missing their scheduled departures, but would be allowed on the next one available.
Queue times of up to seven hours are also being reported on the M20 approach to the Eurotunnel at Folkestone.
Jack Cousens, head of roads policy for the AA, warned: "As the schools closed their doors fully yesterday, Saturday could prove busier still this weekend.
"Drivers should continue to expect disruption and delays on major holiday routes to the southwest, eastern coast and ports of Dover and Folkestone."
Every Friday and Saturday of the school holidays are likely to be busy, he added, as holiday rentals begin and end on those days.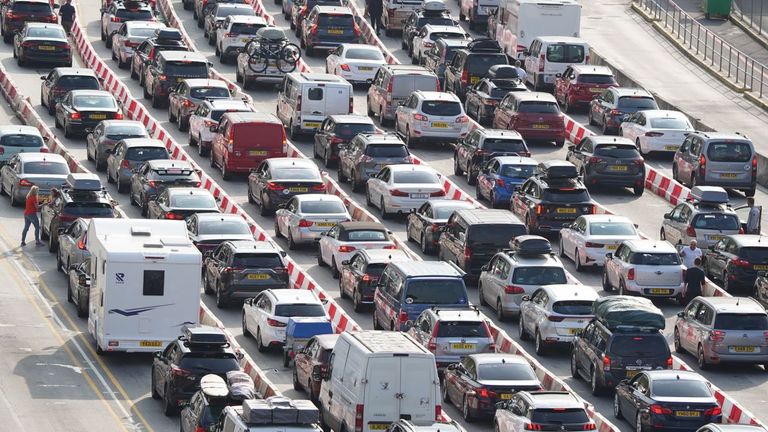 'Appalling' start to summer holidays
Speaking to Sky News on Saturday morning, when lines started forming around 4am, Conservative MP for Dover Natalie Elphicke described Friday's disruption as "appalling", but warned "long, long delays" will likely continue through the weekend.
"It was a dreadful start to that summer getaway yesterday and an appalling situation for residents in Dover too. There simply weren't enough French border police," she said.
"Today I am hearing the French workers have turned up and they are expected to be manning the booths at capacity but there will be a knock-on effect as there always is when there is an issue that has happened at the ports.
"We are expecting long, long delays today, traffic has already been building up around the town and it is going to be a very serious situation on the roads again in Kent today."
Roads to watch for delays over the weekend
M25 anticlockwise Junction 4 Bromley to Dartford
M4 eastbound Junction 30 Cardiff East to Junction 24 for the A449 Monmouth
M25 anticlockwise Junction 17 Maple Cross to Junction 12 for the M3
A303 westbound past Stonehenge
M25 clockwise Junction 7 M23 to Junction 16 for the M40
M5 southbound Junction 15 Almondsbury Interchange to Junction 23 for the A38 Bridgwater
Source: RAC
Truss blames French for not upping capacity
Meanwhile, Foreign Secretary Liz Truss blamed French authorities for Friday's "unacceptable" delays, calling on them to bring in more staff to handle the demand.
"We need action from France to build up capacity at the border to limit any further disruption for British tourists and to ensure this appalling situation is avoided in future," she said. We will be working with the French authorities to find a solution."
But French MP Pierre-Henri Dumont, who represents Calais, said the problems were "an aftermath of Brexit", adding: "We have to run more checks than before".
He also said that the Port Of Dover was too small and that there were too few kiosks for border staff due to the lack of space.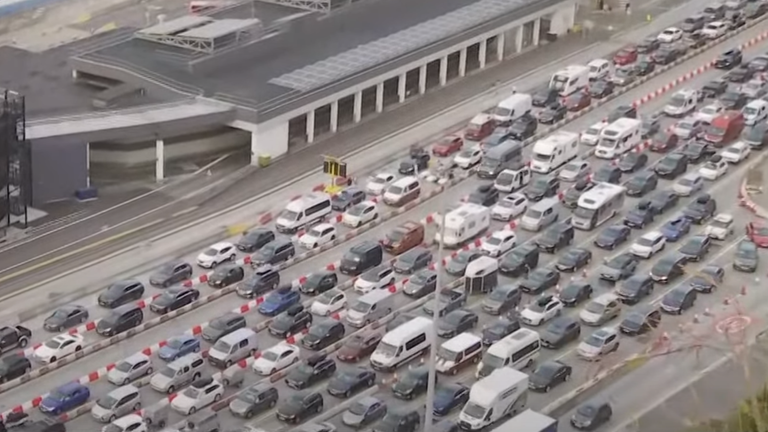 Queues stretch miles in Dover
Read more:
Nine tips to reduce how much fuel you use
London Southend Airport offers to host flights being cancelled by bigger, struggling airports
Dover Port chief executive Mr Bannister was unable to offer any promises that the backlog would clear in the coming days, but said officials were doing their best.
He said that being "let down by poor resourcing at the French border was "immensely frustrating".
Passengers sailing across the Channel from Dover must pass through French border checks before they can board a ferry.
How bad are UK flight cancellations?
The port said it had increased the number of border control booths by 50%.
"The Port of Dover is relieved that French border staff (Police Aux Frontieres) have been fully mobilised at French border controls in Dover (known as 'juxtaposed controls') on Saturday morning in order to get holidaymakers and freight vehicles moving and to relieve the disruption on the Dover and wider Kent community," a spokesperson said.
"We will, together with our ferry operators, support the efforts of all partners to get people on their way as quickly as possible."
Grant Shapps said he was "working closely" with the French transport minister Clement Beaune, adding: "I welcome his commitment that both Britain and France will work closely to minimise further disruption so people can get away quickly."
Mr Beaune re-tweeted the statement on Twitter.
Source : Sky.com