Nine people have been killed in a mass shooting during Chinese Lunar New Year celebrations in California, police have confirmed.
Officers are responding to the attack in Monterey Park, a city just east of Los Angeles, with videos on social media appearing to show officers swarming the area and firefighters treating victims.
Some were also seen being placed on stretchers or taken in ambulances.
Sergeant Bob Boese of the Los Angeles County Sheriff's Department said the shooting occurred at a business, and the perpetrator is a man.
However, it was not made clear if the suspect was still at large.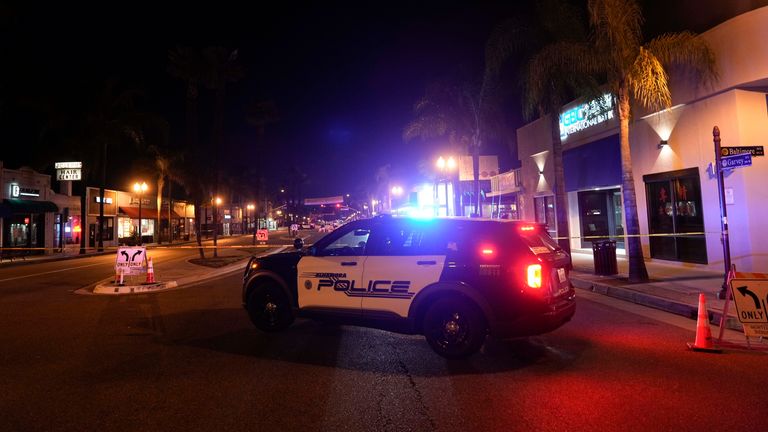 "Los Angeles County Sheriff's Homicide detectives are responding to assist Monterey Park Police Department with a
shooting death investigation. There are nine deceased," the department said in a brief statement.
"There is no additional information available at this time."
Tens of thousands of people had gathered on Saturday afternoon for a two-day festival, which is considered one of the largest in the region.
According to the LA Times, the shooting took place at around 10pm (6am UK time), with one witness saying he believed it happened at a dance club.
Seung Won Choi, who owns a seafood restaurant in the area, told the news outlet three people rushed into his business and told him to lock the door.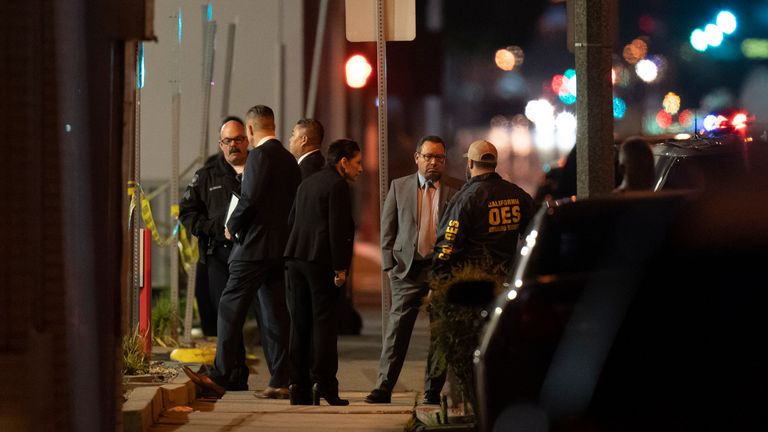 He said he was told there was a gunman with a machine gun who had multiple rounds of ammunition on him.
The shooter was carrying a long gun and appeared to fire indiscriminately, his friends told him.
In a tweet, City Controller Kenneth Mejia, who is an official in the government of Los Angeles, said his "heart goes out to those who lost loved ones tonight" in the "mass shooting".
"Monterey Park is home to one of the largest Asian communities in Los Angeles County, and many were out celebrating the Lunar New Year," he added.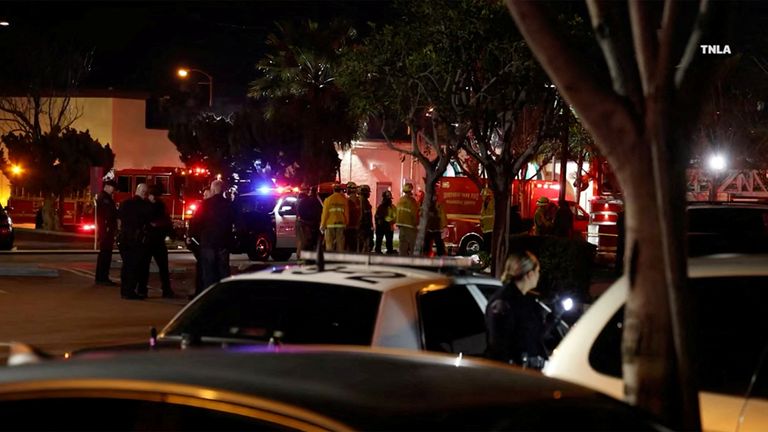 Sky News correspondent Martha Kelner explained that details around the incident are still fairly sketchy at the moment.
"We still don't know yet whether this shooter is at large or in custody or otherwise. So we're waiting really to get the first information of any kind from police on this shooting," she said.
Earlier in the day, crowds had been able to take part in various activities, watch live entertainment and visit "hundreds of vendors" as part of the celebrations, according to a notice by the City of Monterey Park.
Source : Sky.com